Perfect Icon: The Ultimate Icon Converter To Convert Image To Icon And Even for JPEG To Icon Conversion
Perfect Icon can generate icons from any graphic file (png, jpeg, bmp, tiff, wmf etc.) Create stylish icons for Windows XP/7/8. You can easily replace, colorize and save the icons that Windows uses to display standard objects, folders, files, etc.
With Perfect Icon you can:
Create stylish icons for all Windows systems, including Windows XP, 7, 8
Apply different effects and styles for this icons
Create semi-transparent icons with shadow for Windows XP/7/8
Create icons from BMP, JPEG, TIFF, GIF, PNG and other image formats
Create icons from screen captures
Modify folder icons
Modify file type icons
Customize standard Windows Icons
Repair Windows icon cache
If you like to tweak your system, Perfect Icon is a great addition to your utility collection.

System requirements: Windows 95/98/ME/2000/NT/XP/2003/Vista/7/8, 32 MB RAM, Pentium-233 MHz, 3 MB Hard Disk.

Trial limitations: 30-day trial period, nag screen.

Download:
exe
Click here to order Perfect Icon

A look at the features if an icon converter called Icon Perfect; Its ability to convert image to icon, jpeg to icon and jpg to icon. With this innovative software you can make icons that will leave your visitors and customers impressed. The icon converter is an all in one solution for web graphics.

Have you always wanted to add a touch of your own personality to your desktop or take your graphics out in the open by using icons made by you on websites and in your applications? The good news is that with the sheer number of icon converter programs and creators in the; it is easier to make icons than you thought. There are several tools which come with some of the most amazing features such as jpeg to icon conversion capability. They can also be used to convert images to icons. Iconperfect.com is one such site that has loads of options for you whether you are looking for ready to use professionally made icons or you want to buy an icon converter and creator tools so that you can make icons on your own and add your unique brand of creativity to them. For instance; the sites trademark graphics software is simply loaded with features. If it has got anything to do with icon making, then this tool probably has it; the software is really that well made.

With the use of this tool you can create your very own stylish images and icons for just about anything including Windows XP and other Windows systems, applications and even websites. The tool also lets you experiment with a myriad of effects so that you can give your icons the perfect look. You will also get access to a variety of styles; the software can be used with much ease to modify and include shadows for existing Windows icons and to create semi transparent fresh icons.

You can convert jpg to icon (jpeg to icon). The tool supports various graphic file formats so you can create your icons in a plethora of file types such as JPEG, PNG, TIFF, BMP and GIF to name just a few. The best part of using this software is its ability to create icons from screen shots; can you imagine capturing a screen shot from your favorite video of the Swiss Alps or even your pet and turning these images into brilliant icons? It's all possible with Perfect Icon. You can also take things one step ahead and repair icons from the Windows icon cache. Then, there are numerous other features such as the ability to modify folder icons and file type icons and to customize the standard Windows icons.

The website also offers other tools such as the icon processor; this tool is devoted to creating icons from images. You can also play around with the color of the pictures; for instance you can easily convert a 256 color icon into True Color and other XP icons. With this tool, your icons will always be smooth. The best part is that even though the program utilizes a step by step approach to convert your images into icons, your input is simply to drag and drop a singular image or an entire folder and simply sit back and watch it convert image to icon. If you like to tweak the look of your website so that your visitors can enjoy a fuller browsing experience or if you would simply like to improve the look of your desktop, use one of these tools to make impressive looking icons.


Win8 Icon Converter
Windows 8 UI Icon Studio
W8 Metro Icon Editor
Win8 Metro Icon Creator
Icon Craft
is our pick. It allows you to design and edit all kinds of graphics required in the software development cycle, including icons, static and animated cursors and interface elements - all these kinds of graphics can now be designed in a single application.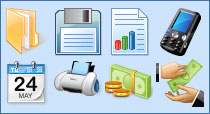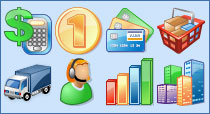 Icon Processor
is an icon converter. It makes icons from your images. It's possible to convert 256-color icons into True Color icons and XP icons.
ICL-Icon Extractor
will scan your files, archives, folders and all local disks for icons. It can download icons from the Internet and customize Windows icons.
Perfect Icon
makes icon from any graphic file (PNG, JPEG, BMP, TIFF, WMF and more) in just seconds. Create stylish icons for Windows XP. Easily replace, colorize and save icons that Windows uses to display standard objects, folders, files.