Win8 Icon Converter
---
This icon tool converts PNG, JPEG, BMP, TIFF, GIF, TGA, ICNS and other images into Windows icons and extracts icons from icon packs.
With Win8 Icon Converter you can:
Create icons from BMP, JPEG, TIFF, GIF, PNG and other image formats
Make icons from your photos
Convert Mac icons to Windows format
Create icons from screen captures
Search for images in folders
Extract icon images from ICO, CUR, ANI, EXE, ICL, DLL, SCR, IL, NIL, DCR, RES, OCX, VBX, DPL, BPL and other libraries
Split icon libraries into individual icon files
Convert multiple files at once
System requirements: Windows PC.

Trial limitations: only 5 files can be converted only at once, 30 trial runs allowed, nag-screen.


View full screenshot

Win8 Icon Converter provides you with a wizard-style converter for producing attractive Windows icons from images or Mac OS icons. Additionally, it allows extraction of icons from libraries and saving them as individual icons in selected folders. The program supports all popular graphic formats, including BMP, WBMP, JPEG, GIF, PNG, PSD, TIFF, XPM, XBM, ANI, and CUR. Output configuration settings include icon size, color depth and transparency.


---
Enter in the Realm of Symbols and Your Own Apps Will Never Be the Exact Same over Again
This particular range of icons is set to modify your universe if you're a programmer. Take advantage of the numerous designs offered as of this website to give the application that supplementary edge, have the suitable mixture of the particular business logic additionally, the GUI.

What's more valuable along with a internet site, the business logic or the user interface? Attempt as you might, you wouldn't be capable to visualize an adequate response to it, facts are, that they are both essential. Obtaining the accurate blend between your UI and the back end in the app is important for every application to work well, numerous software's having excellent performance but standard User interfaces have discovered thus to their peril.

Often men and women just neglect to appreciate the importance of an excellent interface, people who do just do not have the specified ability to build up these. To make your problem more frustrating are often the substantial prices that designers charge for these developments. The User interface requires a lot of painstaking work as you may have to build it image by visual.

Really don't lose hope as now we have the proper means to fix make your challenge simpler, whether it be icons for any Microsoft Windows tool bar, aero people icons, health related symbols or some different you can perhaps imagine, anything that your particular app needs relating to artwork can be here for your own usage. All of these illustrations or photos are presented in up to 5 various sizes (nevertheless this will depend from bunch to package), and various other colorings, from black or white for the Windows phone 7 designs for designers to 32 bit hues for aero people's icons group, aero business icons plus some others.

Each individual image that you get continues to be created by professionals with distinct care about fine detail. All these usually are particularly descriptive and extremely appealing to your vision. One of the benefits is that you won't need to go to any location for your own graphic needs when you've been right here. With all the pictures sensibly as well as organizing them to the UI appropriately may with ease get together a front-end that is deserve the back-end you've drafted.

The designs presented here's sure to catch the user's eye using remarkable representation along with the amusing undertones. An image inside the aero people's package shows a business adversary who's a bull's eye on him. You will not only uncover new design for all those the common functions within these packages, they've been created to meet each and every imaginative intuition of yours. You will get designs for aliens, a super hero and even agents with typical ones of salesmen, doctors and also dental professional. It is a myriad of colours that is definitely guaranteed to allow brand new life on the graphical user interface without rendering it seem the slightest bit gaudy.

So look at all these at once, get a tryout if you would like test just a few first or simply purchase them right away and then set up all of them this minute. Provide the app a makeover.


---
Icon Craft
is our pick. It allows you to design and edit all kinds of graphics required in the software development cycle, including icons, static and animated cursors and interface elements - all these kinds of graphics can now be designed in a single application.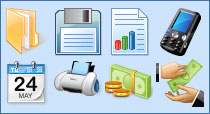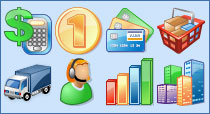 Icon Processor
is an icon converter. It makes icons from your images. It's possible to convert 256-color icons into True Color icons and XP icons.
ICL-Icon Extractor
will scan your files, archives, folders and all local disks for icons. It can download icons from the Internet and customize Windows icons.
Perfect Icon
makes icon from any graphic file (PNG, JPEG, BMP, TIFF, WMF and more) in just seconds. Create stylish icons for Windows XP. Easily replace, colorize and save icons that Windows uses to display standard objects, folders, files.