Windows 8 UI Icon Studio
---
Windows 8 UI Icon Studio is an icon total solution to find, extract, edit and create toolbar, tab bar, status bar, menu, dialog, application icons for Android, iPhone, iPad, iPod, Windows and websites.
With Windows 8 UI Icon Studio you can:
Create tab bar, menu, dialog PNG icons for iPhone, iPad, iPod
Create Metro-style and Aero-style icons
Manage icons, static and animated cursors, icon libraries, image lists
Create and edit smooth semi-transparent icons, static and animated cursors for Windows 8
Create and edit icons in standard and custom sizes, with color depth up to 32-bit True Color
Paint images with gradient and chess fill
Create multi-layer images
Modify images with a variety of effects: drop shadow, opacity, smooth, negative, grayscale, colorize, rotate, roll and mirror
Import and export ICO, ICNS, BMP, JPEG, ANI, CUR, GIF, PNG, TGA, WMF, WBMP, XPM, XBM and Adobe Photoshop PSD image formats
Work with Mac OS Leopard 512x512 pixels icons
Manage icon libraries for better and more efficient image storage
Extract icons from Windows executables, libraries and animated cursor files, ZIP and RAR archives
Download icons from the Internet
Search for icons in folders
Modify icons contained inside executables
Convert or apply effects to multiple icons at once
System requirements: Windows PC.

Trial limitations: 30-day trial period, nag screen.


View full screenshot

If you have always wanted to design icons with your own unique blend of creativity; then, this is your chance to do so because now you can get access to a very powerful icon editor that can be used to make all sorts of web graphics from toolbar buttons to mouse cursors.


---
Enter in the Playing Field of Designs and Your Own Programs Will Not Be the Same ever Again
This particular collection of symbols is ready to modify your world if you're a engineer. Make use of the quite a few symbols offered as of this webpage to give the application this supplementary edge, receive the perfect mixture of the particular business logic additionally, the UI.

What's more vital with a web page, the back end or even the user interface? Strive as you might, you would not have the ability to visualize an adequate answer to that, simple truth is, that both of them are equally important. Obtaining the proper mixture involving the User interface additionally, the back-end from the application is extremely important for every application to work well, countless software's having good features but ordinary UIs have found to their peril.

Often folks simply don't realise the significance of an excellent GUI, people who do just do not have necessary technique to produce such. To make the predicament more shocking tend to be the substantial costs which developers impose for such enhancements. The UI takes a heap of careful work as you could have to create it visual by image.

Really don't lose hope as now we have the proper solution to help make your venture less complicated, whether it be icons for the Windows tool bar, aero people icons, clinical symbols or anything else you could possibly think about, anything that the app demands when it comes to visuals is actually here for your use. All of these images are brought to you in as much as 5 sizes (although this may increasingly vary from group to package), and other shades, from monochrome in your Microsoft Windows phone 7 designs for coders to 32 bit colours for aero people's symbols package, aero business symbols and some others.

Every single shot that you receive is constructed by pros with specific attention to detail. All of these will be amazingly detailed and intensely appealing to up your eyes. One of the benefits is that you may not will need to go to any location for the image needs as soon as you've been right here. While using images sensibly as well as organizing all of them to the UI suitably may comfortably get together a front-end that may be deserve the actual back-end you've written.

The designs provided here I will discuss absolute to receive the user's eye using remarkable representation additionally, the hilarious undertones. A graphic inside the aero people's group demonstrates a business opponent who's a bull's eye on him. You will not only discover brand new artwork for all the regular functions within these packs, they've been made to satisfy every single resourceful intuition of your own. You can find icons for aliens, superman as well as spies alongside common ones of sales agents, physicians as well as dentist profesionist. It is just a myriad of colorings that is definitely guaranteed to supply new life towards the graphical user interface without making it appear the slightest bit showy.

So consider all these right away, get a simulation in order to test a couple of first or get them immediately and even set up these this moment. Offer your own app a reorganisation.


---
Icon Craft
is our pick. It allows you to design and edit all kinds of graphics required in the software development cycle, including icons, static and animated cursors and interface elements - all these kinds of graphics can now be designed in a single application.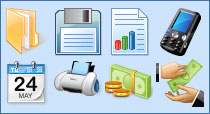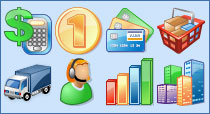 Icon Processor
is an icon converter. It makes icons from your images. It's possible to convert 256-color icons into True Color icons and XP icons.
ICL-Icon Extractor
will scan your files, archives, folders and all local disks for icons. It can download icons from the Internet and customize Windows icons.
Perfect Icon
makes icon from any graphic file (PNG, JPEG, BMP, TIFF, WMF and more) in just seconds. Create stylish icons for Windows XP. Easily replace, colorize and save icons that Windows uses to display standard objects, folders, files.